R introduction
Rstudio
RStudio is a free and open-source integrated development environment (IDE) for R, a programming language for statistical computing and graphics.
RStudio was founded by JJ Allaire, creator of the programming language ColdFusion. Hadley Wickham is the Chief Scientist at RStudio.
ggplot2
ggplot2 is a data visualization package for the statistical programming language R. Created by Hadley Wickham in 2005. It's a function to build plots piece by piece.
The concept behind ggplot2 divides plot into three different fundamental parts: Plot = data + Aesthetics + Geometry.
The principal components of every plot can be defined as follow:
data is a data frame
Aesthetics is used to indicate x and y variables. It can also be used to control the color, the size or the shape of points, the height of bars, etc.
Geometry defines the type of graphics (histogram, box plot, line plot, density plot, dot plot, ..)
There are two major functions in ggplot2 package:
qplot() stands for quick plot, which can be used to produce easily simple plots.
ggplot() function is more flexible and robust than qplot for building a plot piece by piece.

Install and load ggplot2 package:
#install.packages("ggplot2")




library

(

ggplot2

)



plot type selection
One variable: Continuous
geom_area(): Create an area plot
geom_density(): Create a smooth density estimate
geom_dotplot(): Dot plot
geom_freqpoly(): Frequency polygon
geom_histogram(): Histogram
stat_ecdf(): Empirical Cumulative Density Function
stat_qq(): quantile - quantile plot
One variable: Discrete
Two variables: Continuous X, Continuous Y
geom_point(): Scatter plot
geom_smooth(): Add regression line or smoothed conditional mean
geom_quantile(): Add quantile lines from a quantile regression
geom_rug(): Add marginal rug to scatter plots
geom_jitter(): Jitter points to reduce overplotting
geom_text(): Textual annotations
Two variables: Continuous bivariate distribution
geom_bin2d(): Add heatmap of 2d bin counts
geom_hex(): Add hexagon bining
geom_density_2d(): Add contours from a 2d density estimate
Two variables: Continuous function
Two variables: Discrete X, Continuous Y
geom_boxplot(): Box and whiskers plot
geom_violin(): Violin plot
geom_dotplot(): Dot plot
geom_jitter(): Strip charts
geom_line(): Line plot
geom_bar(): Bar plot
Two variables: Discrete X, Discrete Y
Two variables: Visualizing error
geom_crossbar(): Hollow bar with middle indicated by horizontal line
geom_errorbar(): Error bars
geom_errorbarh(): Horizontal error bars
geom_linerange() and geom_pointrange(): An interval represented by a vertical line
Combine geom_dotplot and error bars
Two variables: Maps
Three variables
Interesting R
Pure Love
n

=

50000

;




r

=

0.7

;

r_e

=

(

1

-

r

*

r

)

^

.5

;




X

=

rnorm

(

n

);




Y

=

X

*

r

+

r_e

*

rnorm

(

n

);




Y

=

ifelse

(

X

>

0

,

Y

,

-

Y

);




plot

(

X

,

Y

,

col

=

"red"

,

 

main

 

=

 

"Pure Love"

)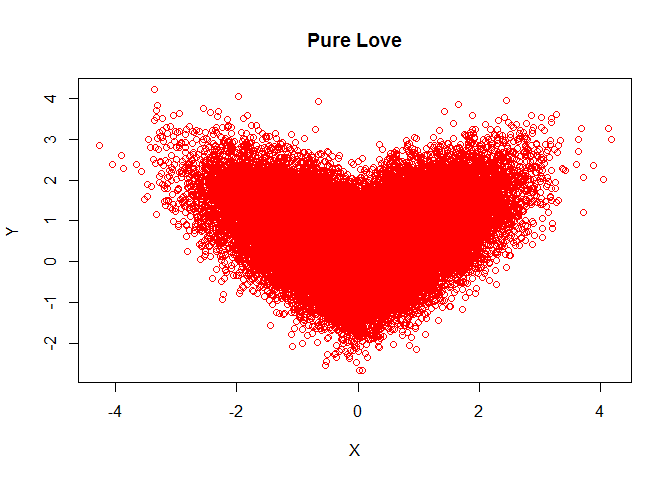 Love is colorful
n

=

50000

;




r

=

0.7

;

r_e

=

(

1

-

r

*

r

)

^

.5

;




X

=

rnorm

(

n

);




Y

=

X

*

r

+

r_e

*

rnorm

(

n

);




Y

=

ifelse

(

X

>

0

,

Y

,

-

Y

);




a

<-

sample

(

c

(

2

,

6

,

7

,

8

),

50000

,

T

)




b

<-

sample

(

c

(

76

,

79

,

86

,

69

),

50000

,

T

)




plot

(

X

,

Y

,

col

=

0

,

 

main

 

=

 

"Love is colorful"

)




text

(

X

,

Y

,

"lOVE"

,

col

=

a

)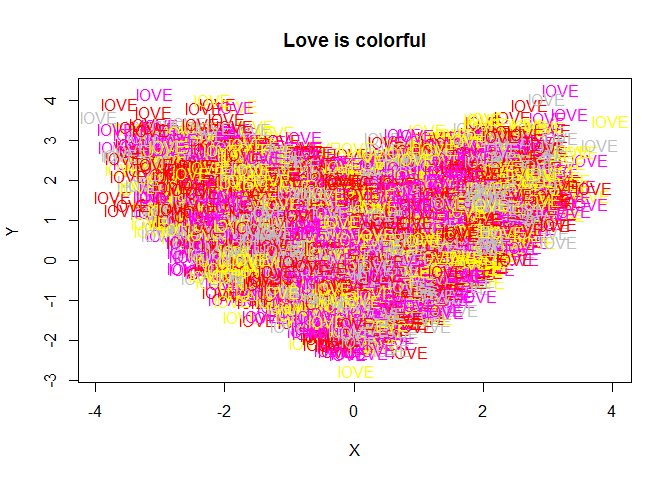 Embarrassing
library

(

ggplot2

)




f

 

<-

 

function

(

x

)

 

1

/

(

x

^

2-1

)




x

 

<-

 

seq

(

-3

,

3

,

 

by

=

0.001

)




y

 

<-

 

f

(

x

)




d

 

<-

 

data.frame

(

x

=

x

,

y

=

y

)





p

 

<-

 

ggplot

()




p

 

<-

 

p

+

geom_rect

(

fill

 

=

 

"white"

,

color

=

"black"

,

size

=

3

,


                 

aes

(

xmin

=

-3

,

 

xmax

=

3

,

 

ymin

=

-3

,

ymax

=

3

,

 

alpha

=

0.1

))





p

 

<-

 

p

 

+

 

geom_line

(

data

=

d

,

 

aes

(

x

,

y

),

 

size

=

3

)

+

ylim

(

-3

,

3

)




p

 

<-

 

p

 

+

 

theme_bw

()

 

+


    

theme

(

axis.text.x

=

element_blank

(),


          

axis.text.y

=

element_blank

(),


          

legend.position

=

"none"

,


          

panel.grid.minor

=

element_blank

(),


          

panel.grid.major

=

element_blank

(),


          

panel.background

=

element_blank

(),


          

axis.ticks

=

element_blank

(),


          

panel.border

=

element_blank

())





p

 

<-

 

p

+

xlab

(

""

)

+

ylab

(

""

)




print

(

p

)



So, R is quite interesting and attracting, why not learn it. Let's go~
References
Be Awesome in ggplot2
R STHDA
Interesting R
Cookbook for R
ggplot2 for bignners
ggplot2 - Essentials
Guide to Create Beautiful Graphics in R (Book)